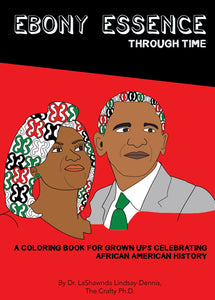 Ebony Essence Through Time
Regular price $15.00 Sale
Take a break from your everyday stress and celebrate African American history as you make your way through this coloring book. Ebony Essence Through Time is the third coloring book for grown ups in the Ebony Essence series, from Dr. LaShawnda Lindsay-Dennis. This issue features 23 hand-drawn illustrations of key figures in African American history, each adorned with West African Adinkra symbols that give the drawing deeper meaning.
This book includes depictions of icons like:
-Maya Angelou
-Barack and Michelle Obama
-Coretta Scott King and Martin Luther King Jr.
-Harriet Tubman
-Langston Hughes
-Oprah Winfrey
-and many more!